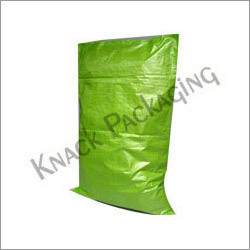 PP Woven Single Colored Sacks
Product Code : 08
Product Description
We are offering our clients a comprehensive range of PP Woven Single Coloured Sacks. These sacks are specifically crafted by our skilled professionals using exceptional quality raw material and most up-to-date machines falling in line with the international standards. Commonly used for packing of food grains, cement, fertilizers, etc., the offered sacks are well-known for their traits like, moisture resistance, light weight, durability, fine finish and reliability. Moreover, these PP Woven Single Coloured Sacks are accessible with us in diverse sizes and colours such as White, Red, Yellow, Green and Black at cost-effective prices.
Common Features:

HDPE (High Density Poly Ethylene) / P.P (Poly Propylene) Bags / Sacks available in coated as well as un-coated forms.

We will provide you the perfect packing to meet your exact requirement.

We are very careful on the sizes of the bags because that is very important for the looks of bags and also cost effectiveness. This is suggested by us for the particular applications.

Width: Circular Form - 25 cm to 150 cm (10" to 60")

Length: As per your requirement.

Mesh: 4x4 to 16x16.

Denier: 400 Denier to 2000 Denier and above

Weight: 30 GSM to 140 GSM and above

Lamination: 12 Micron to 50 Micron and above (10 GSM to 48 GSM)

UV stabilization: 200 HOURS TO 1600 HOURS (if required)

Strength: We can match your strength in warp way & weft way.

Elongation: As per your requirement.

Cutting: Available in "Heat cutting", "Cold cutting", & "Zig zag cutting".

Stitching: Single or Double fold With Single or Double Thread, We take care of the stitch counts & Bottom seam strength as you require

Printing: Flexo Printing up to 3 colors on one or both sides with or without corona treatment ( Manual and Auto Printing) is also done.

Packaging: Bale press packing & Palletized packing available as per your requirements.
Note : These are our standard specifications but products with customized specifications are also available.