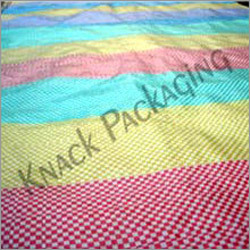 Different Color PP Woven Fabrics
Product Description
Different Color PP Woven Fabrics
We can also offer quality fabrics in different color strips options.
Fabric is made with different stripes but you will not find any color variations.
The strip size, color and design are available as per your requirements & needs.
Common Features
Fabrics available in HDPE (High Density Poly Ethylene) / PP (Poly Propylene) materials.
Available in Roll Forms & Open Flat Fabrics.
Fabrics available in coated as well as UN coated forms.
Perfect for meeting the demands of packaging, sheltering & covering of products.
Width: Circular Form - 25 cm to 150 cm (10" to 60") Open Flat Form - 50 cm to 300 cm (20" to 120")
Length

Available in ROLL form.
Inner. - 70 mm and above.
Outer - Minimum 300 mm and above as per your requirement.

Mesh: 4 x 4 to 16 x 16.
Denier: 400 Denier to 2000 Denier and above
Weight: 30 GSM to 140 GSM and above.
Lamination: 12 Micron to 50 Micron and above (10 GSM to 48 GSM)
UV stabilization: Yes (if Required) - 200 Hrs to 1600 Hrs.
Printing

One side - One / Two / Three colors.
Both side- One / Two / Three colors.
Available in roll form as per design & Art Work.

Strength: We can Match your strength in warp way & weft way.
Elongation: As per your requirement.
Packing: As per your requirement.
Note : These are our standard specifications but products with customized specifications are also available.